Introduction
This document describes the process to get the transaction count that is used for billing purposes from your AP Automation system.
Prerequisites
Please make sure to follow these steps or the counts from the system will not be correct.
Time zone
Basware run the billing reports on UTC time zone, you must therefore perform these searches with a workstation configured to UTC to get the correct count.
See appendix 1 for an example on how to change the time zone on a Windows 7 PC.
Please reach out to your IT department for additional help.
Access rights to the system
The user running the report must have access to ALL customer organizations in the system.
URL accessing the system
Please ensure that the URL you are using does NOT contain a TZ parameter.
Example, if you access your system with a URL like this:
https://example.p2p.basware.com/Portal/WifLogin/Default.aspx?tz=120&ln=en-US&lnf=en-US&sl=0
please remove the tz=120& part.
Search result limit
For performance reasons, the searches in AP Automation are limited to return a maximum number of invoices per search 5000. If you have more transaction per month than the maximum search result count, you must do several searches with a narrow interval and manually add the counts to get the monthly volume.
If you don't know the max search result, perform one large search, you should see a message like this in the upper left corner:

In this example, 1125 is the number of results per search.
Process
Configure search parameters: In AP Pro, go to Accounts Payable -> Search screen:

Make sure all filter check boxes are checked
Enter start and end date, note you may have to do several searches as described in "Prerequisites"
Press the "Advanced Search" button.

When the Advanced Search dialog shows, select all sources except "Imported from other system" as shown below and then click "Search" in the bottom right corner.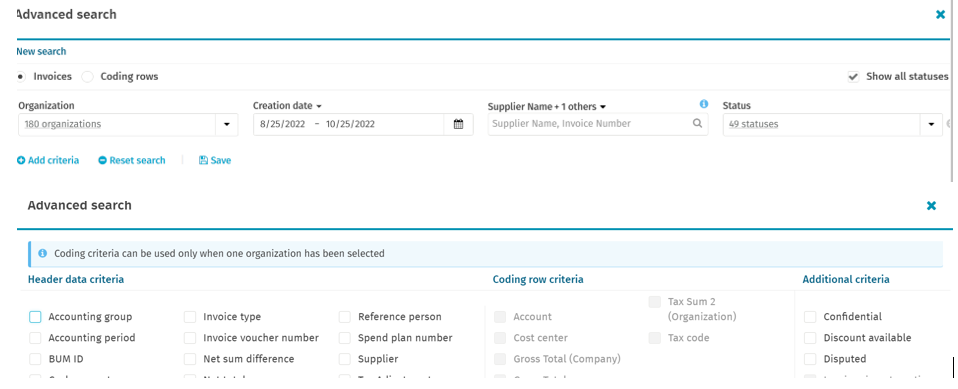 Search result
If you get a message in the upper left corner that only the first <X> results are displayed, as described in "Prerequisites", the interval is to large and you need to shorten the date interval.
If you do not get a message that the search limit is exceeded, take note of the returned number of invoices from the top right corner, see below: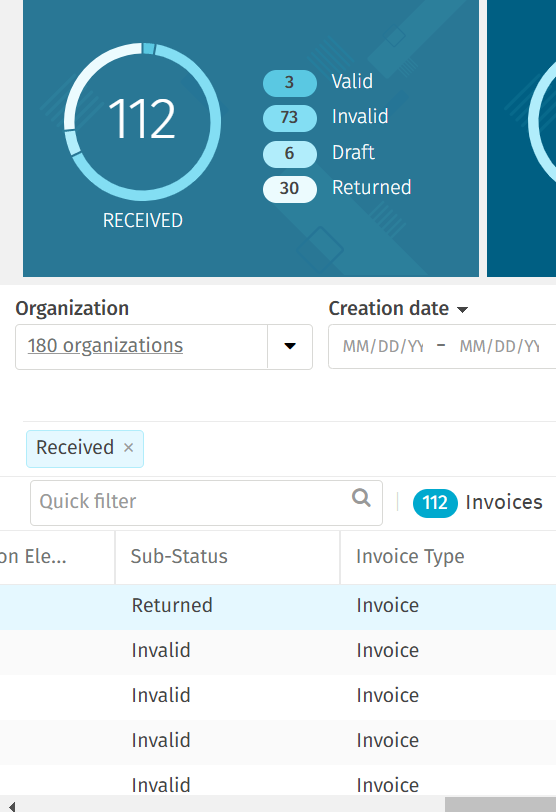 Invoice transaction count.
If your search spans the full month, this is the volume for AP Automation invoice transactions.
If you are making multiple searches due to volume, complete all searches for a full month and add them together to get the monthly billing volume for AP Automation invoice transactions.
Please note: Invoices in "Personal Draft" status will not show in this search but are counted as transactions. There can therefore be a small difference between your result and the invoice transaction count.
Appendix 1 Setting Time zone in Windows 7
Either start the control panel or
Click the Clock in your Windows 7 system tray and then "Select Change date and time settings".
Click "Change date and time."
Click "Change time zone"
Select "(UTC) Coordinated Universal Time"