We've given Marketplace a fresh new look! With our new interface, users have more insight and more control when searching for and ordering items. Marketplace is also more responsive, perfect for ordering items from a phone or tablet.
The new user interface affects the Marketplace home page, catalog shopping, lists, and the basket. The enhancement will be in effect for all users as part of release 21.1.
The detailed changes are listed below. You can also download and use our PowerPoint slide deck to better understand the changes and share them with your organization.
Contents
What is the new user interface? What's changed?
Shoppers now have more control and a better experience with the following features:
Responsive design
We've redesigned the full shopping experience using the Angular framework for better performance and responsiveness on all screen sizes. Users can shop from a phone, tablet, or computer with ease.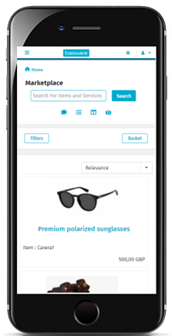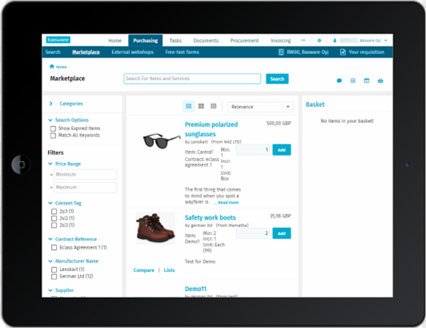 Basket preview
While searching for items, users can see everything that is already in their basket. This helps users stay informed and make better purchasing decisions.

Natural filter placement
Filters for search results are now on the left side of the screen. This placement is familiar to users who are accustomed to typical e-commerce sites and provides an easier left-to-right reading experience.

Choice of catalog layouts
Users now pick from three catalog layouts, to view items in the way that is most efficient for them.
For smaller screens or more casual users, the grid layout is perfect. The photo-first design makes finding items easy without needing to read a lot of text.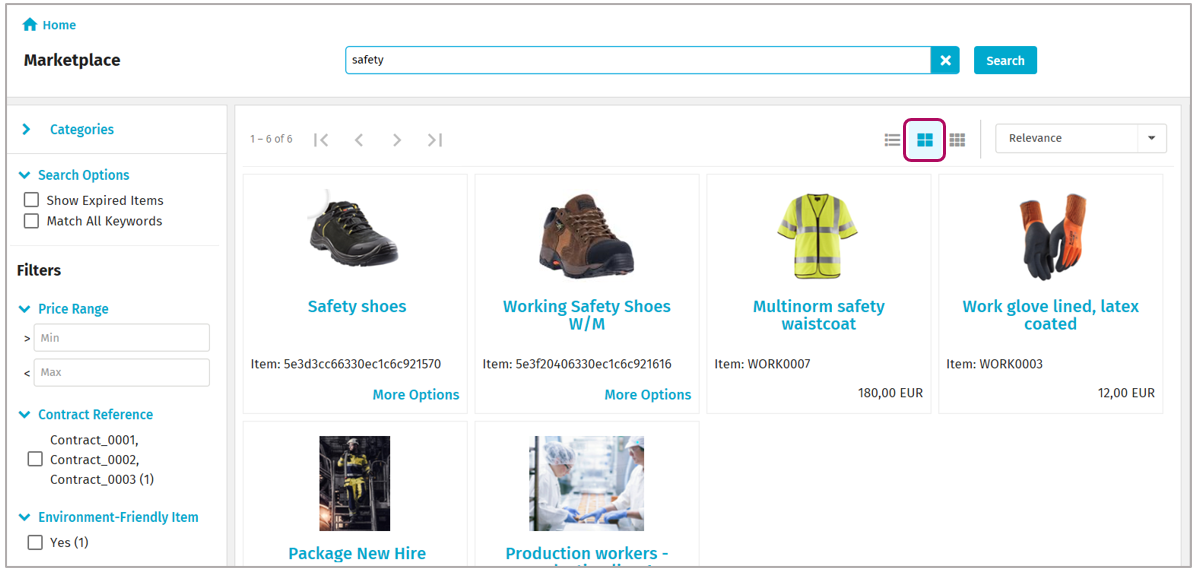 Users who prefer the classic catalog layout can continue using it. It provides a good balance of images and detailed text in a familiar format.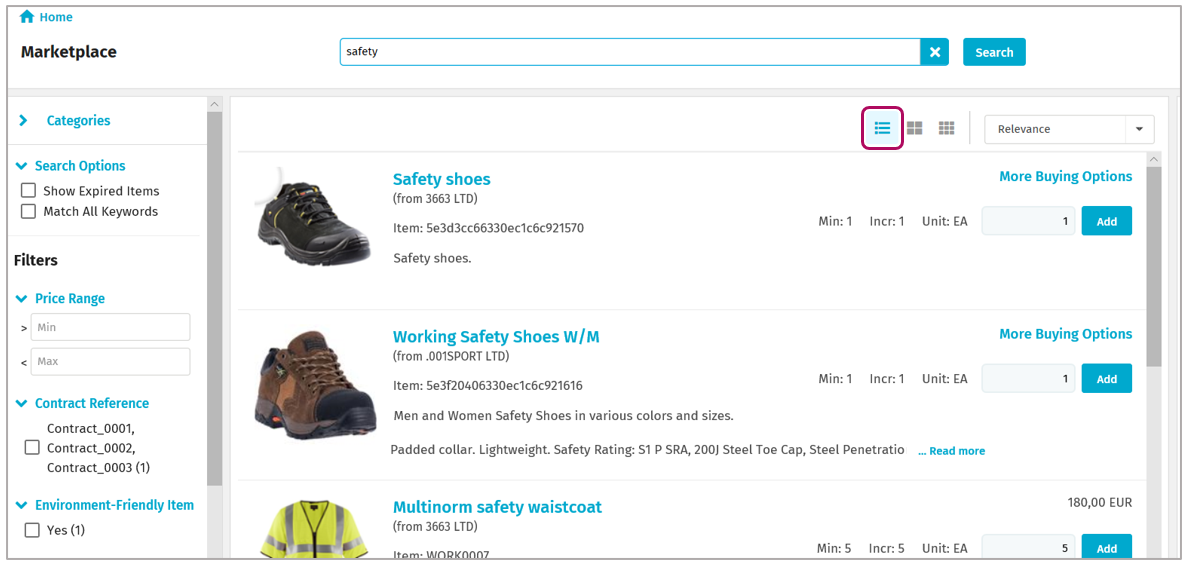 For professional buyers who need to order many things at once and know exactly what they're looking for, the table layout is the most efficient option. These users can easily find and add many items to the cart for large orders without needing to scroll past pictures. In this view, users can also see items' contract references, which helps them to buy items from contracts when possible.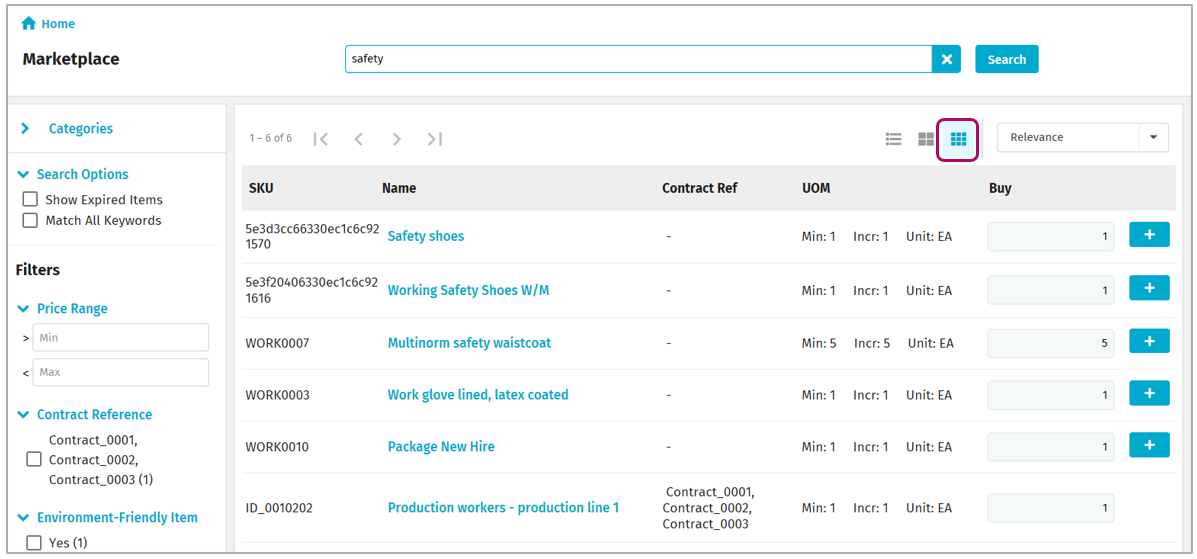 Improved image viewing
Users can now click an image on any item to see the image in more detail.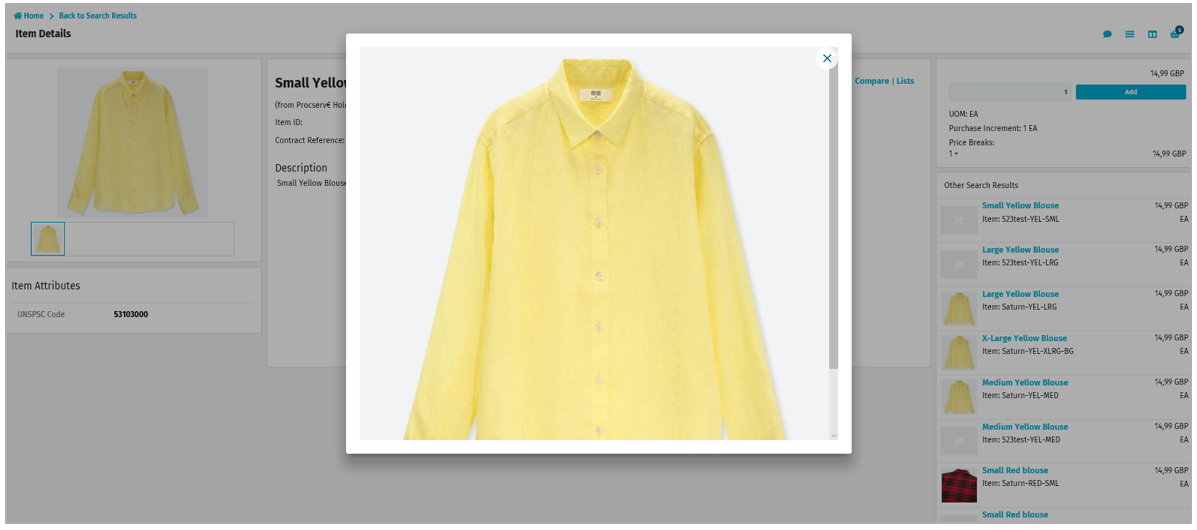 Visibility of item options
If an item has options, such as a uniform shirt with sizes and colors, those options are displayed on the screen so users can see all available choices, instead of needing to open a drop-down list for each one.

What areas of Basware Purchase-to-Pay does this new interface affect?
The changes currently affect Marketplace, on the Purchasing tab of Basware Purchase-to-Pay. The current changes do not affect any other areas of Basware Purchase-to-Pay or buyer administrative areas such as Product Manager, Directory, or Settings.
What devices and browsers work well with the new interface?
The new interface is compatible with all browsers including
Google Chrome

Mozilla Firefox

Microsoft Edge

Safari

Internet Explorer
Please note that if you are using an old version of these browsers, it may not be 100% compatible in all areas.
When will the new interface be available?
The new interface is already available! If you want to start using it now, contact your customer service representative. The new interface will be enabled for all users as part of release 21.1. After this release, the old Marketplace interface will no longer be available.
Are we required to switch?
Yes, this is a required upgrade. But don't worry! The new interface has been in use by customers since June 2020 and has received great feedback. All of the features you depend on are available, the interface works seamlessly with Basware Purchase-to-Pay integration, and no configuration or data migration is necessary.