Supplier Guide - Validating your Content Loader and creating the XML
Validating your Content Loader and creating the XML
Once you have filled out your Content Loader form you will need to generate an XML file to upload. Before you can do this, you must validate the document to check for any problems or errors.
First, please ensure Marcos are enabled in excel. You may see a security warning as per the below screenshot, if so click Enable Content:
To validate the document, click the tick icon at the top of the Item data tab: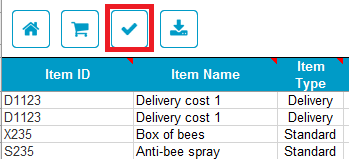 The Report tab will now be displayed. If there are no problems with the item data, you will see a message that states the validation completed with no issues. If any errors are displayed please check these and amend the item data as required, the error will display a cell number with a hyperlink to the problem cell.
Once the validation has completed without issues, you are ready to generate your XML file which will be uploaded to create your price list. To do this click the Generate BMECat icon at the top of the page:
You will then be prompted to save the XML file to you PC. Please note the name of this file will be the name of the price list once uploaded: