Buyer Guide - Add or Remove an Agreement from a View in Product Manager
To add or remove agreements to/from your view, click the Agreements

 button.
All Agreements will be displayed and will also indicate if the Agreement is available or unavailable. If the Agreement has expired (and therefore unavailable) it cannot be added to the View.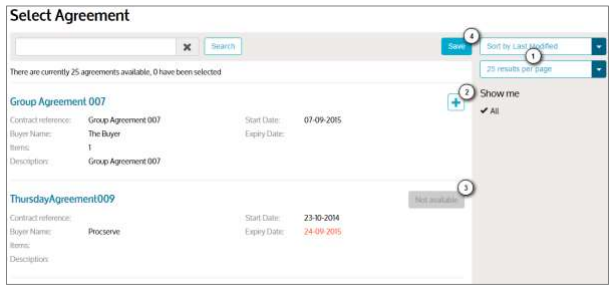 Use the 'Sort by' filter on the right to sort the results. The number of results displayed per page can also be changed here.
To add an agreement to your view, click the button to the right of the agreement. Once added, the button will change to a click this to remove the agreement from the view.
If an agreement or its price list has expired, then it will show as 'Not available.'
Once all the relevant agreements have been added, click the 'Save' button to the right of the search bar.
The screenshot below shows the view with an agreement added.