Basware Portal - Registration username already exists
Summary:
This article aims to provide instructions on how to handle the following situation:
You want to register in Portal ONP for a new customer, from which you have received a new invitation link and you get the following message: "Username already exists".
Instructions:
If you are trying to create an account into the Basware Portal and you get the message "Username already exists", it means that this users name has been already used in the past for a registration for the PDF E-Invoicing Service.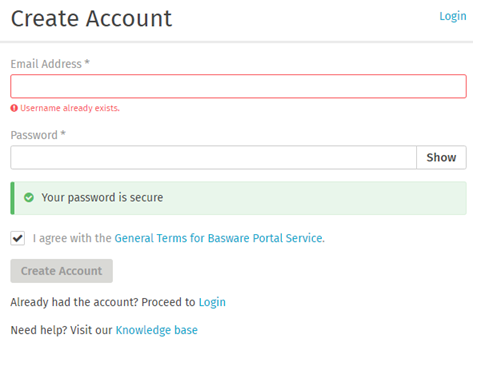 During the registration for the PDF E-Invoicing Service which you have now started, you have two possibilities:
To create a new account with a new user email address and a new sending email address by following

these steps

.
If you are already using the Basware PDF E-Invoicing Service for another customer, you do not need to register again. Simply click on Login with the user you have already created for a different registration in the past and use the sending email address, which is added for the past registration, with the possibility to also add other emails to this account anytime this is needed.
I already have a Basware Portal account. How can I connect with other customers?
For any issues and concerns regarding the login and registration, please contact Basware Support.