Summary:
This article will explain how to use Purchase Professional Tools' search functionality. The article will cover how to:
Export purchase requisition (PR), purchase order (PO), goods receipt (GR) to Excel from Professional Tools

Use advanced search

Aggregate, group and summarize data

Move and pin columns



In all cases, the maximum number of search results is 5000 records. It is recommended to narrow down the results using search criteria if it exceeds 5000 results.
Instructions:
How to export purchase requisitions (PR), purchase orders (PO), or goods receipts (GR) to Excel
It is possible to export all of the search results to Excel. The export file options are either CSV or XLSX.
Search PRs, POs, or GRs.

Right click anywhere in the search result list and select Export > Export to .csv or Export to .xlsx

All search results are exported to the selected file type.
How to use advanced search
Users of Purchase Professional Tools can use advanced search to find purchase orders. Advanced search allows users to search purchase orders based on either header data or coding data with up to 10 criteria. Users can save searches to quickly run them again later.
To access advanced search, first click any purchase orders status in the status chart, then click Advanced search.


To add search criteria, click Add criteria. Then select the fields you want to search by.

To save your search criteria, click Save and name your search. Then easily run it again later by clicking View saved searches and selecting a search from the list.
How to move and pin columns
Users can rearrange columns by clicking and dragging them The new column arrangement will persist even if a user logs out and logs back in, or logs in to P2P from a different device.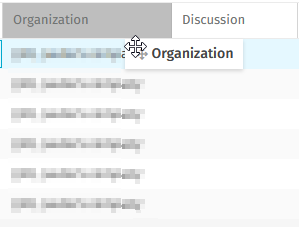 Other functionalities for organizing columns are shown by clicking the menu (

)in each column header. The functionalities are:
Column can be pinned on the left or right side
Columns can be autosized
Search results can be grouped by the selected column
All columns can be reset to their default states
User can hide and show tool panel
Column can be hidden
How to aggregate, group, and summarize data
Professional users can aggregate, group, and summarize data from purchase documents in Purchase Professional Tools list view. Aggregating and summarizing data can help the user answer questions such as:
How much have we bought from Supplier A this month? This could be crucial information for evaluating current contracts or negotiating new contracts.

What is the total amount of orders still in workflow? This data is helpful for estimating upcoming costs.
This functionality is available in purchase requisition, purchase orders and goods receipts areas.
First, enable the tool panel by clicking

> Show tool panel.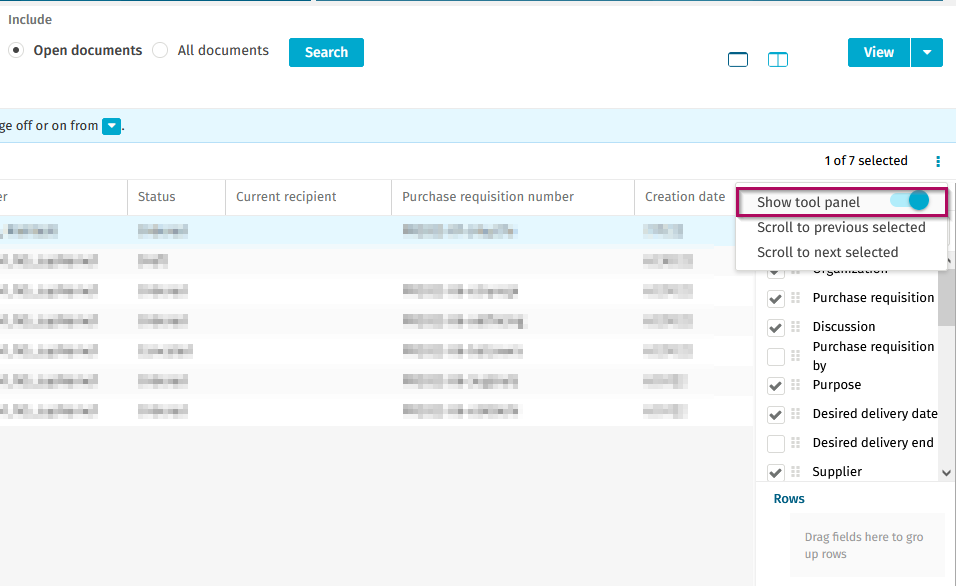 From here, you can select or deselect which columns are visible. Use the search box to find columns quickly. Note: the column Purchase requisition number is always visible.
From toolbar user can find column with filter. User can also select and deselect all columns to be visible or hide all (except "purchase requisition number" which is always visible).

Users can use pivot functionality to summarize data.
Users can group data by clicking and dragging a column to the "Rows" area.
Users can select columns on the list. It is possible to filter the columns.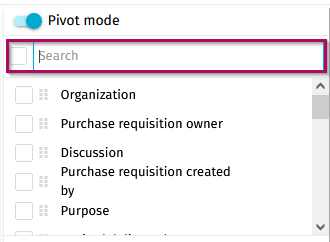 Grouping can be done simultaneously with many columns.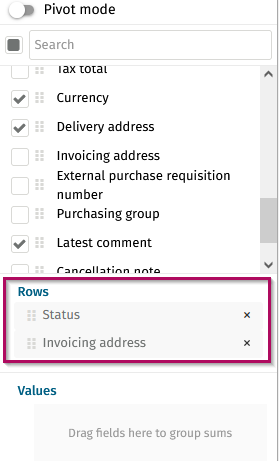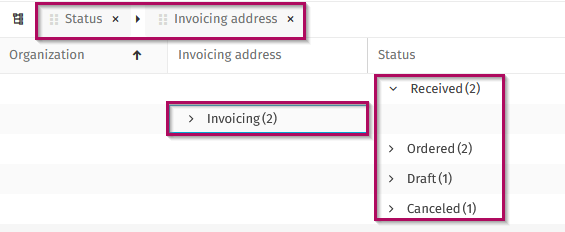 Users can aggregate data to group level (e.g. tax total) so that they can easily see the big picture.

Users can select which value is shown at the selected group level (Sum is selected as default). Other options are average, minimum and maximum.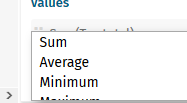 In pivot mode, the document actions are hidden. This is because in pivot mode the user doesn't know which document are selected.