Index:
1. Can business users use the AP Pro manual order matching now that it is available for AP clerks?
Yes! The Tools for Power Users bring a desktop-like user experience for business users who have many complicated tasks to perform. Among many other improvements, we also support manual order matching for business users.
Users can enable Tools for Power Users for themselves in User settings, by selecting Professional view.
2. Does AP Pro support manual matching?
Manual order matching is fully supported in AP Pro. All advanced matching features, such as unplanned additional cost matching and subsequent order matching, are supported.
Manual spend plan matching is not yet supported. Basware recommends that you use the automatic routing functionality for spend plans to route failed spend plan invoices straight to workflow instead of going to manual spend plan matching first. If you have invoices in manual spend plan matching, there are these actions available: Request manual approval and Confirm (that includes force match).
3. Can I see invoice lines created by Best-fit in manual order matching?
Yes. Invoice lines are supported in AP Pro. The support is available for invoice lines created automatically or during the invoice import. Invoice lines that were generated by Best-fit have a different identifier than other invoice lines.
4. From Manual matching, can I see which order was associated to the invoice and what values were used?
Yes, you can see all associations from a section in the invoice called Matching results. Here you can see which associations have been made and what values were used during the association.

The Matching results contains all information about the association, including identified matching errors like failed price differences. The associations containing matching errors include an error icon. For invoices that contain many associations and errors you can also hide all successful associations. This helps you to only focus on the deviations. You can filter on deviations by selecting Show only lines with exceptions.
5. Can you see other invoices associated to the purchase order in manual order matching?
Yes, from the purchase order search panel you can find all invoices associated to the purchase order. The Actions menu from purchase order search has a new action called Associated documents. This opens a dialog with all invoices that are associated to the selected row.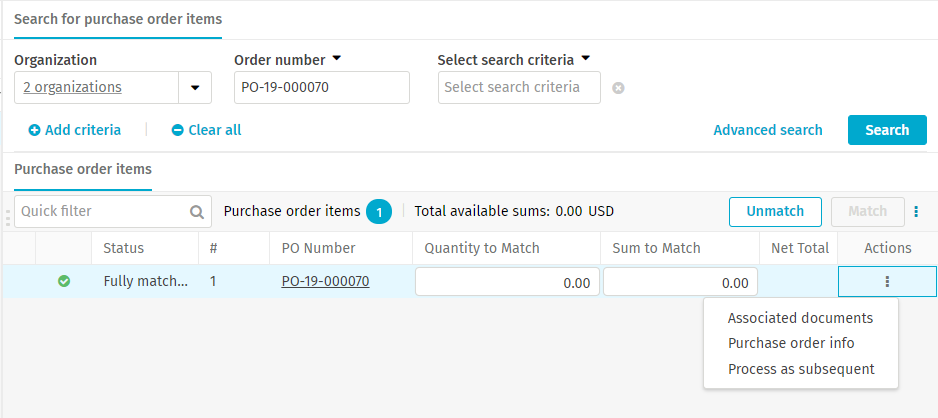 6. What information can you find in the Matching results?
Matching results contains information about all of the associations in order matching. Matching errors show if matching validation rules fail. Each validation rule can return an error message. It is possible to have both price and quantity differences on the same or another association.
7. How do I move an invoice with validation errors out of manual order matching?
The Confirm action in AP Pro means that you completed your matching deviation handling activity and you want to move the invoice forward in the process. Based on the matching result, invoices can either go straight to "Ready for transfer" (no matching validation errors) or to Workflow due to matching validation errors.
So, in AP Pro you don't need to select a separate action to launch the Workflow activity. You can just confirm your action on the invoice and the system will take care of the following steps in the invoice life cycle.
8. Does AP Pro support service purchase orders?
Yes, service purchase orders are supported in manual order matching. Required details for service orders can be added to the user interface using screen configurations, if they are not already available.


Other Useful Links:
WANT TO LEARN MORE ABOUT AP PRO? CONTACT OUR SUPPORT TEAM.