Department for Work and Pensions Low Value Provision (LVP) Certification
By completing the information in this section, you are choosing to register for the opportunity to deliver Low Value Provision (LVP) Welfare to Work Training for the Department for Work and Pensions. Before providing the following information, you are advised to visit the DWP website for more guidance on the registration process
http://www.dwp.gov.uk/supplying-dwp/what-we-buy/welfare-to-work-services/opportunities-to-tender
or contact DWP by emailing NORCROSS.PROCUREMENTOPERATIONS-SUPPORT@DWP.GSI.GOV.UK or calling +44 1633 631500.
How do I complete the certification?
Login to commerce hub with your Basware account at the following address:
https://buyers.mpuk.basware.com/admin/login/auth
Once logged in select Settings, followed by organisation management: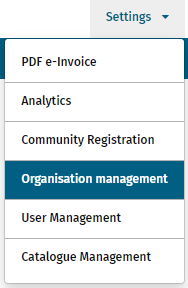 On this page there are a number of options of the left in blue, click the 'Certification' option. This page shows the current status of your certification. If you are currently "Not certified" you will need to add Bank information, the type of training courses and where you can offer those courses and where you can provide courses, if you have not done so already.
To add your bank details click the 'Financial information' option and fill in all the sections under 'Bank information' and click save on the top right of the page:

To select which locations you can provide training in select the 'Locations', from here you can narrow down locations by Country, County or Borough and civil parish. Click the tick box next to the appropriate locations. Again ensure you click the save option on the top right of the page when you are done.
To select the training course you offer select the 'Certification' where there will be a section labelled 'Which type of training courses do you offer?' Scroll through this section and click the appropriate course, for multiple course use Ctrl and click to highlight more than one option.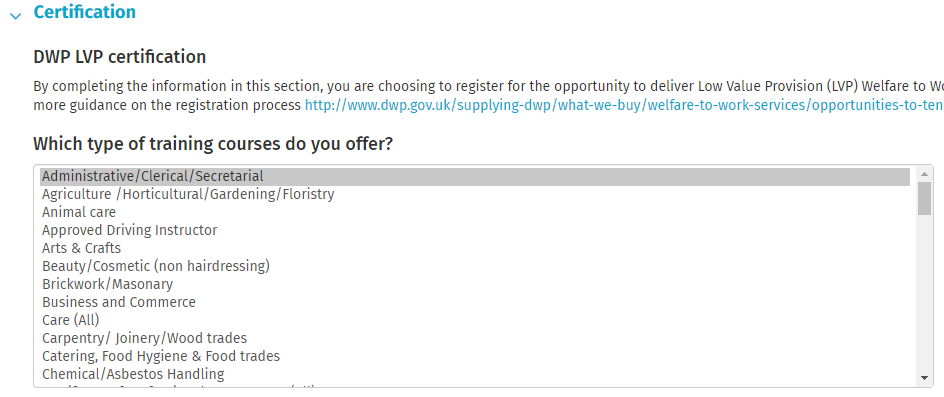 Once you have added all the required information you can complete your certifcation. Under the 'Certification' section, to the right on where you selected your course, there is an option to 'Take the self-certification questionnaire'. Click this and the questionnaire will be displayed, go through each questiona and select an answer and then click 'update' at the bottom of the questionnaire. Once this done ensure you click Save on the top right or the organisation management page, if you don't your questionnaire answers will not be saved.

Once this is done the red 'Not certified' text will update to 'Certified' in green and you will be visible to the DWP for the Low Value Provision (LVP) Welfare to Work Training.