When a user tries to access IP Master, an error message stating "You do not have a license for this application" is shown. Pressing OK closes the application.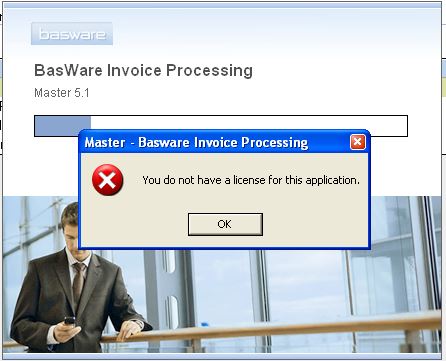 Resolution:
1) Check that the user has a master license assigned from IP Admin > User management > Users > find the user > licenses.
Master (scan) gives access to only the "unprocessed invoices" tab, and master (control) gives access to all functionality in the application.
It's only necessary to have one of these two licenses assigned, based on the rights needed for the user. Please note that Master (scan) is not necessarily used in your system, and might be disabled for use.
2) If the user has a license correctly assigned, check that one or more of the users user groups have "Invoice Admin" rights. This is done from IP Admin > User management > User groups > find the relevant user group --> user group rights - check the box Invoice Admin.
These rights enable access to Master, and have to be assigned to a user group in order for the user to start master successfully for the companies tied to this specific user group. Repeat this step if there are other user groups that should have Master access as well.