Searching for and viewing your documents
Login to commerce hub with your Basware account at the following address:
https://buyers.procserveonline.com/admin/login/auth
Once logged in select the supplier portal tab from the dashboard, at the top of the screen:

From the supplier portal select Documents on the top right:

You can then select Document list and adjust the 3 drop down menus to search by document type, the status of the document and a date range. If you know the document number you can also select Search to search directly.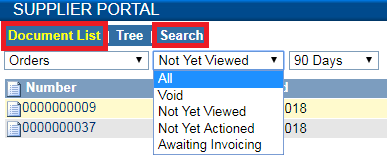 Select the document you wish to view by clicking the order number. The document should now be highlighted in yellow. On the right-hand side of the page a summary of the document will be displayed.
From this summary you can take a number of actions against this document. To view the documents full details, click the

 icon. In the case of unsent quotes and invoices you can click

 to continue editing and send the document, or

 to delete it.
The document summary will also display a list of any documents linked to the document you have selected, under Related to. For example, invoices against an order. You can click on these document numbers to then view the summary for that document:

The bottom of the summary will also confirm if the document has been sent, the case of invoices and quotes, or if orders have been invoiced for and if request for quotes have been quoted. A green tick confirms if the document has been sent or responded to and a red ! confirms it has not: