Summary:
After your trip, create a travel claim to record your expenses and, if necessary, request for a reimbursement.
Instructions:
To create a travel claim:
1. In the main menu, click Documents and then New document.


2. In the Select document type window, click the suitable document type, for example Travel Claim, and then Select.
3. Enter all the necessary details in Basic data and Travel data.
Follow your company's instructions when selecting for example the travel type and cost center.
4. Click Create.
5. If you have added expenses or vehicle usages already before or have card purchases available, you can select them for this travel claim from Available expenses. After selecting, click Add to document.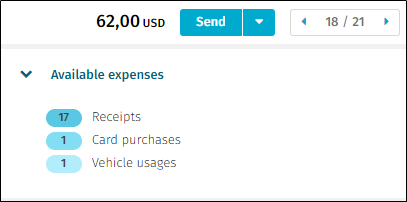 6. Add new receipt images or attachments in the Receipts and attachments panel. You can either drag and drop the files to the panel or click

and select the files.
7. To add new expenses, click

in the Expenses panel.
After adding expenses, you can also select travel advances if the added expenses are related to travel advances that you have received before your trip.
To view the reimbursables that you will be paid for if the travel claim is approved, click Reimbursables after entering all the expenses.
When you have entered all the necessary information, click Send to send the travel claim for review and approval.


Tips:
To delete a draft travel claim, click > Delete in the upper right-hand side of the page. You can only delete draft documents.
To add a comment to the travel claim, click > Comment.
To view all your claim drafts, click Documents > Drafts in the main menu. Click the row to view the whole document.