What is an Item Template?
It is a form which you provide with your standard items to collect additional information from the Buyer to customise such products. The Buyer complete this form in Marketplace and can checkout these templated items with the additional information like and alongside any standard items.
The data can be managed and uploaded in bulk via a csv file.
Creating your Item Template CSV file

Column A – SUPPLIER_ITEM_ID: This is the Item ID of the product
Column B – LANGUAGE: This depicts the language in which the data appears in Marketplace.
Please enter the following language codes (in small letters) as appropriate to define the language of your templated item data:

Column C – VARIABLE_NAME: This depicts your Variable Name (ID). This is the key that links the data in the item to the control in the Marketplace item. This is also passed back in the basket along with the value selected. E.g. "COL" (for "Colour"). This is hidden from the buyer.
Column D – DISPLAY_TEXT: These are options that you provide your buyer to choose from. For example, if you give your buyers a choice of suppliers for item A, this is where you will list their names.
Column E – BASKET_PROPERTY: These are "identifiers" in the basket and correspond to the options in Column D. For example, if you have listed supplier names in the Column D, you would enter their corresponding DUNS in Column E. Or if you have listed colour options in "DISPLAY_TEXT" (Column D), you can repeat these for "BASKET_PROPERTY" (Column E).
Column F – FLAGS: You can flag preferred options to your buyers by entering "Preferred" in this column. You can have more than one flag for the same Variable Name, e.g. you can have more than one preferred supplier. We will be adding different flags in the near future.
Column G – DEFAULT: By entering "True" in this column you mark this option as default, i.e. this option will be shown to the user by default. You can only have one default per one variable name (but for the same Item ID).
Things to look out for when completing the csv
For a successful upload, please adhere to the following when completing the csv: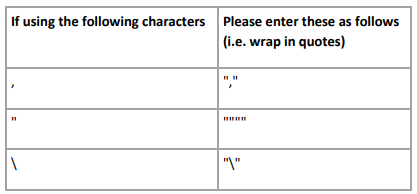 Where to export and upload the csv file
You can export an empty csv file for templated data on the Content Upload Page under Form Data. This is also where you will upload your completed file. To locate this login and select Product manager:

The select the content upload option: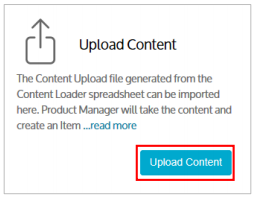 Mid-way down the page is the Form Data section. From here click the arrow next to Instructions for the option to down load an example CSV. To upload your CSV click Select File and locate the CSV on your computer. Once selected click Upload: